How do I Become an Electrical Superintendent?
Electrical superintendents work in the construction industry and provide technical expertise and direction on building projects and oversee workers. They also manage the electrical function for utilities, manufacturers, telecommunications companies, government agencies and a variety of other organizations. Generally, an electrical superintendent is a licensed electrician who has gained years of experience working in increasingly responsible positions in the field. The basic path to become an electrical superintendent is to graduate from high school or obtain an equivalent degree and then complete an apprenticeship training program. Depending upon where you plan to work when you become an electrical superintendent, you might also need an electrical engineering degree, which can be required by some employers.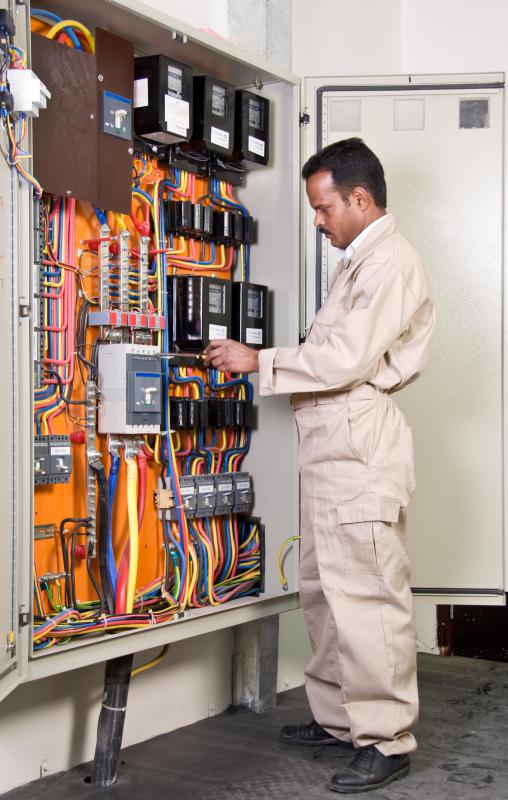 The typical early training to become an electrical superintendent involves performing a three- to five-year apprenticeship through a labor union, trade organization or electrical contracting company. Apprenticeships combine paid on-the-job training with classroom instruction. You also can attend a vocational or technical school to learn the skills to become an electrician, and subsequently, to become an electrical superintendent. While studying to become an electrician, you will learn about electrical theory, code requirements, how to read blueprints and more. You also will take mathematics courses, so focusing on math during your high school years will help you to have a strong grounding in the subject when undergoing electrician training.
Licensing typically is required to work as an electrician. Licensing requirements can vary depending upon where you live, so check with your local government for specifics. Usually, obtaining a license involves passing an examination that tests technical and safety knowledge.
During your career as an electrician, it is important to continue to undergo training to stay up to date on electrical advances, electrical codes and safety requirements. You also can take classes, such as management and leadership courses, in order to further your own goals to become an electrical superintendent. Studying electrical engineering, especially with the goal of earning a degree, can show current and future employers that you are serious about your objective of becoming an electrical superintendent, which might help you move to the front of the line for promotions.
Besides the requisite technical skills, it also takes supervisory ability and good communication skills to become an electrical superintendent. Strong problem-solving skills also are necessary, as is a detail-oriented personality with a strict attention to safety. Having good color vision is important for identifying different-colored wires. Manual dexterity and strong hand-eye coordination also will help you to become an electrical superintendent.