How Do I Become an E-Learning Manager?
To become an e-learning manager, you will typically need to gain education and experience in several areas, namely web development, instructional design, and education administration. The extent of the experience or education needed depends significantly on your employer. In addition to knowledge of educational methods and technology, you may also need management experience as well as the ability to understand laws and regulations that govern educational providers.
Many schools, continuing education programs, and other types of businesses are now implementing online education programs. These companies need e-learning managers to direct their educational programs; oversee the online course development process; and ensure that their online courses are in compliance with standards set by industry associations, accreditation boards, and government regulatory agencies. As online learning is still a relatively new field, there isn't just one way to become an e-learning manager.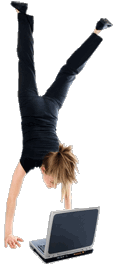 If you are currently in school, you may wish to consider getting a degree in education, school administration, or instructional design. In addition to studying education, you should likewise study at least the basics of web development. After you become an e-learning manager, you may not actually have to design the courses yourself, but it is helpful if you have some knowledge of the development process. On the other hand, if you go to work for a small company, you may be expected to work with educational software, so having strong development skills may be a real asset in maximizing your job opportunities.
In situations where you are out of school and already working in a business, you may need to obtain additional education. This may not mean, however, going back for a degree, but instead taking continuing education or professional development courses. In many cases, you can take web development and design courses through adult education centers or vocational schools. In fact, many online colleges and universities offer certificate and diploma programs in online education may be well suited to your schedule and the needs of your employer.
In addition to developing your professional and technical knowledge, you will also want to develop your management skills, as you may have to work with several different employees to build your e-learning courses. You may also have to work closely with industry, accreditation, and government regulators if you are producing courses that prepare people for professional licenses or are offered by accredited schools. Managing compliance issues can be tricky and typically demands that you become extremely familiar with the laws and regulations pertinent to your business before you become an e-learning manager.
AS FEATURED ON:
AS FEATURED ON:






Woman doing a handstand with a computer