How do I Become an Airline Stewardess?
To become an airline stewardess, there are several considerations that might make you more appealing to an airline hiring manager. Having a high school diploma or GED, a passport, customer service experience, fluency in English and other languages, an ability and willingness to relocate, a suitable physical appearance and the ability to pass both a physical examination and background check are all things that can help you become an airline stewardess. It is important to keep in mind that each airline is different, and their requirements might vary.
Many airlines will not want to hire someone who does not have a high school diploma or GED. In addition, they like to see at least some college coursework and preferably a degree. This demonstrates maturity and a willingness to better oneself by furthering one's education.
Customer service experience usually is not required, but it can go a long way in helping you become an airline stewardess. The main focus of your job usually will be to assist the public, and sometimes this will involve volatile situations when you must remain calm. Experience or training in customer service can make a huge difference in preparing you to deal with these situations.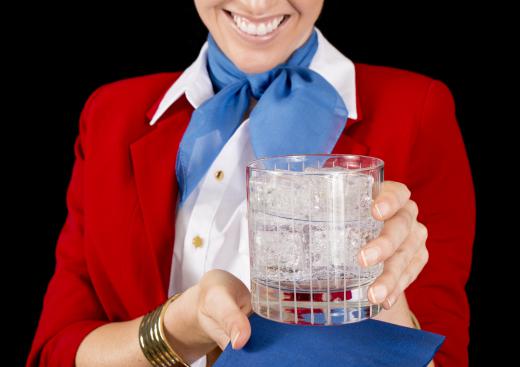 Fluency in English is a usual requirement when working as an airline stewardess. It might also be helpful to be fluent in other languages, especially if you will be working for an international airline. You might be serving customers of different nationalities, so the ability to converse with them in their native tongue can be extremely helpful. Having a passport also can be beneficial if you want to become an airline stewardess.
It usually is a given that an airline stewardess will be asked to relocate to her domicile, or home base, airport. Certain airlines have certain domiciles, and you might not receive your first choice domicile. Many times, these are assigned based on seniority.
You will be a representative of an airline, and many of them have physical appearance requirements for stewardesses. They want someone who will present a professional and well-groomed appearance. Also, height requirements might need to be met so that the airline can ensure that you will be able to assist passengers in case of an emergency.
Once you have passed all other hiring criteria and right before you are offered a spot in a training program to become an airline stewardess, you will be asked to pass a physical examination and background check. This will let the airline know that you are physically able to do the job and that you have not lied about anything on your application. These background checks can go back as far as 10 years.
AS FEATURED ON:
AS FEATURED ON:






By: starush

Another name for an airline stewardess is a flight attendant.

By: jwblinn

An airline stewardess is responsible for serving drinks during a flight.

By: charles taylor

Having a passport can help a person get hired as an airline stewardess.

By: Pavel Losevsky

The number of flight attendants used on a flight varies by airline.

By: arquiplay77

Because they are working with many people in a confined space, flight attendants must be able to act quickly and stay calm under pressure.