How do I Become an Administrative Secretary?
An administrative secretary, also known as a receptionist, administrative assistant, or office aid, is a professional skilled in managing general administrative duties. Since many businesses require a strong administrative staff, there are often many positions available to those with requisite skills. In order to become an administrative secretary, it is important to understand basic office skills and be able to do well in interviews.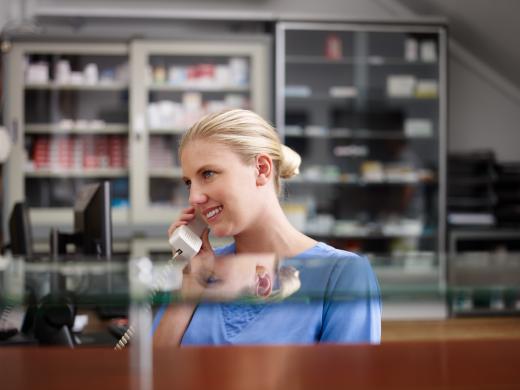 Administrative jobs are often different at different workplaces. A medical administrative worker will may spend much of his or her day checking in patients and making appointments, while a secretary at a legal office may spend more time filing, researching, and preparing documents. With so many career opportunities in this area, one skill that can be very important for a person trying to become an administrative secretary is flexibility. Being able to draw on core organizational skills but adapt to many different working environments can be the key to a great career in this field.
Some of the most important skills required to become an administrative secretary include organization and computer literacy. Many jobs will specify exactly which computer programs are necessary to the position, but many include word processing programs, design and imaging software, spreadsheet programs, and competent Internet research skills. Some administrative secretary jobs will require the use of job-specific programs that require several days of training to learn to use. Being comfortable with computers and picking up job-specific skills can help reassure employers that they have chosen the right person.
Other skills that can help a person become an administrative secretary include familiarity with office equipment, such as multi-line phones, copiers, and fax machines. Administrative workers often serve as front office personnel, and must be able to handle customer needs as well as their own workload. Speaking a second language can also be very helpful in certain administrative jobs.
In order to become an administrative secretary, a person will need to apply for jobs and do well in interviews. Job postings for secretaries may come up daily in newspaper want ads and online advertisement websites. Be sure to have a clean, proofed, professional resume to send out with applications or in response to job postings.
Interviews are often a very important part of the hiring process for administrative workers. In general, employers look for candidates who look and behave professionally. In many offices, the administrative workers are tasked with helping everyone stay on schedule, complete required tasks, and assist with many of the day-to-day tasks that may be necessary, but are not always exciting. Employers often want workers who can fulfill these jobs while maintaining a positive attitude and making the workplace pleasant and efficient for everyone else. Dressing professionally, speaking with confidence, and not being afraid to smile and laugh are excellent qualities to bring to any interview.


By: vetkit

Administrative secretaries are usually expected to know how to use copiers and other office equipment before they begin the job.

By: diego cervo

A medical administrative worker will likely spend much of her day scheduling appointments.

By: katarinagondova

Administrative secretaries have to have good typing skills.