How Do I Become a Teacher Assistant?
To become a teacher assistant, an individual usually must complete a minimum amount of academic training as well as gain classroom experience under the supervision of a teacher. Certification and licensure, however, are not typically required. Depending on his or her level of expertise, for instance, an assistant working with younger children might act in more of a supervisory role, while a high school teacher's assistant might perform more technical duties, such as setting up lab equipment and grading assignments. Most assistants are trained on the job, and many choose to advance their educations through additional schooling. In addition to completing degree programs, aspiring teacher assistants can often be more competitive job applicants by having a combination of relevant skills and experience with children.
There is a wealth of opportunity available for someone who wants to become a teacher assistant, as it is possible to work with nearly any age of children, from daycare or preschool up through the secondary school level. Teacher assistants support classroom teachers in various ways. They might focus on administrative work, such as maintaining records, or they might give individualized attention to certain students. Often, they also provide supervision in settings outside of the classroom, such as on the playground, in the cafeteria, or on school trips.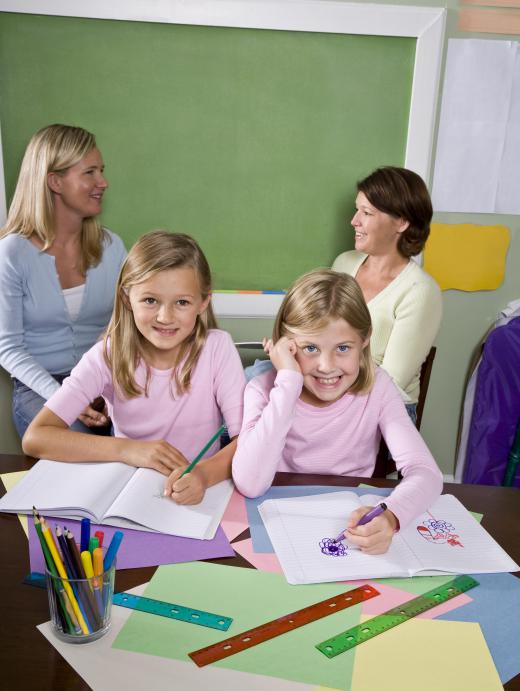 The requirements to become a teacher assistant normally vary according to the school district. Many positions do not require more than a high school diploma and on-the-job training. Depending on the assistant's specific duties, obtaining an associate's degree or certificate is also common. Generally, it helps to have some background experience working with children as well. It can also help to have knowledge of a specific academic subject area, such as math or science, in order to assist the teacher by tutoring students when necessary.
Other requirements to become a teacher assistant could include good communication skills and the ability to work under a teacher's supervision. In many areas of the U.S., schools employ instructors to work with special needs students or those who do not speak English. Possessing particular skills such as a special education background or foreign language ability can help make someone a more competitive job candidate. In some cases, a human or social services background might also be helpful — many teacher assistants help students with their physical needs, and others assist children with accessing various community resources. For an assistant who wishes to further his or her education and earn a teaching credential, tuition reimbursement might be available through the school district in which he or she works.
AS FEATURED ON:
AS FEATURED ON:






By: Kablonk Micro

Most teacher assistants work in elementary-level classrooms.

By: air

A teacher assistant might give individualized attention to certain students.

By: Monkey Business

Teacher assistants support classroom teachers in various ways.

By: Igor Mojzes

A teacher assistant who wants to earn a teaching credential might be eligible for tuition reimbursement.

By: Pixsooz

Teacher assistants might help with grading assignments.

By: Monkey Business

In most cases, teaching assistants do not need to be licensed or certified.