How do I Become a Sound Technician?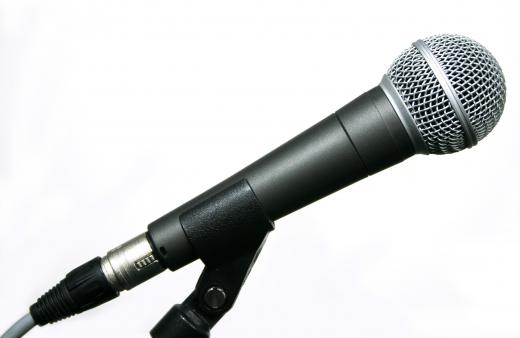 Sound technicians work with machines and equipment to record, produce and synthesize audio samples. Technicians may work in recording studios or at live events to install, repair and operate audio equipment. They may also work with video productions to mix and edit sound. To become a sound technician, it is helpful to obtain training in a technical program, make connections through internship opportunities as well as improve computer and audio equipment skills.
Assuming that one has completed a high school education or GED testing, those seeking to become a sound technician may enroll in a vocational or technical program. Most sound engineering programs take about one year to complete if courses are taken in a full-time capacity. Obtaining an associate of science degree in audio technology will also provide the necessary training in addition to providing the competitive advantage of a degree.
Audio technology and sound engineering programs train students to use audio equipment and other electronics. Once students become familiar with repairing and installing equipment, they learn to record, mix and edit audio samples using computer technology. The majority of sound equipment is operated by using computers and specially designed audio sensors, so equipment training is an essential component of the program.
It is ideal to obtain an internship at a local radio station or recording studio while working in a technical program. Internships help provide the essential skills necessary to become a sound technician. During an internship, students learn the daily tasks of a sound technician in addition to making important industry connections.
It is common for sound technicians to find employment at the companies where they interned after completing a vocational program. Sometimes larger companies will offer sound technician positions in other locations or branches of the company. Technical schools may also provide job placement assistance for students who complete training.
Audio equipment and computer training are typically included as part of a technical training program to become a sound technician, but it is important to spend as much time as possible becoming familiar with recording and sound equipment. Equipment repair and installation should typically be included as part of the internship duties. Taking time to become familiar with audio equipment and practicing repair and installation will help improve time and accuracy.
Sound technicians may often work on assignments that require quick installation of highly technical equipment. For this reason, it is important that technicians be quick and accurate when dealing with audio and recording equipment. If technicians posses quick and deft audio installation skills they will typically remain very competitive in their field.


By: soundsnaps

A sound technician typically sets up microphones and makes sure they are working properly.