How do I Become a Solderer?
A solderer is a lot like a welder, but he focuses on a much smaller and more delicate scope of work. If you want to become a solderer you need to spend a lot of time learning the trade, what tools are needed and what industries utilize soldering. There are two distinct ways to get this education, but a lifetime of precise work awaits you upon mastering this job.
There rarely are any educational requirements to become a solderer beyond having a high school diploma or the equivalent of one. Having a strong aptitude for shop class, math and chemistry is a helpful foundation to begin this career. If you want to have an advantage over the competition when seeking this position, an associate's degree in welding technologies is a great way to learn more about soldering techniques.
If you do not wish to or cannot obtain an education to help you become a solderer, you could become an apprentice. An apprentice works as an assistant to a solderer, many times on construction sites or in a manufacturing environment. You will be able to watch a professional at work and see how they handle a variety of situations. As you gain understanding and experience, you will be given jobs by your mentor, which will help you learn everything about soldering.
One essential thing needed to become a solderer is a familiarity with the tools and techniques that the job requires. The act of soldering uses a soft metal, known as solder, and melts it to create a simple weld. Hand welding uses a hot soldering iron and a long spool of solder to fuse items together. A soldering gun is more advanced and handles the heating and solder dispersement in a single device that operates like a hot glue gun. A knowledge of different joints and soldering techniques also is necessary to know how much solder to apply to a given situation.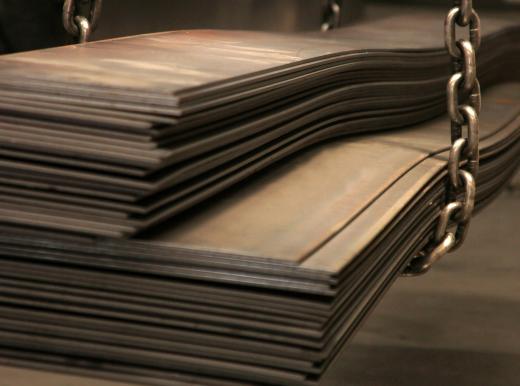 With all of your soldering understanding and experience, there are a variety of industries from which you can choose if you want to become a solderer. You will need to decide which area best matches your talents. Manufacturing, especially soldering circuit boards for electronics, is the biggest employer of solderers. Industries that use heavy metals such as pipes, plumbing and sheet metal also use solderers on a regular basis. Artistic pursuits such as making jewelry and creating stained glass windows also require the talent of soldering.
AS FEATURED ON:
AS FEATURED ON:






By: luchshen

A solderer might be called upon to work on electrical components, such as a motherboard.

By: Ingo Bartussek

Jobs such as plumbing require the ability to solder together pipes.

By: Kybele

A solderer might work with sheet metal.

By: luchschen_shutter

Solderers may work in repair or manufacturing, fusing wires and electronic components together on circuit boards.