How do I Become a Senior Caregiver?
If you would like to become a senior caregiver, there are several different career paths from which you can choose, including nursing home aide, home health aide, and personal aide. The duties and demands of these jobs vary, and as a result the route to securing employment is different for each. Generally, however, the process of becoming a caregiver to the elderly will include a mixture of certification coursework and on-the-job training, although these requirements can vary from state to state. In addition, you will likely be required to submit to background checks and demonstrate that your character is suitable to the work.
To become a senior caregiver in a nursing care facility, you will need to be able to perform a range of duties such as monitoring vital signs, changing bedding, and assisting residents in standing and walking. As patients reside at these facilities, you may work with the same individuals for extended periods of time. You must also be able to cope with the emotional difficulty of witnessing patients' decline or death.
To ensure that nursing home aides are capable of meeting these diverse demands, the US government requires that they successfully complete certified nurse assistant (CNA) training. The CNA certification process involves a minimum of 75 training hours and a formal assessment once these hours have been completed. CNA training will educate you in many of the elements of nursing care work, from awareness of patient rights to proper procedure for taking temperature, bathing, and feeding.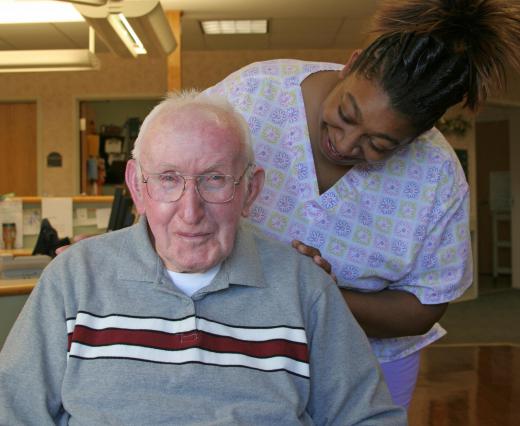 Working as a home health aide is another possibility if you want to become a senior caregiver. Home health aides are generally employed by government-regulated hospices or other home health care agencies, and usually work under the supervision of a licensed health care professional or case worker. Your duties are largely similar to those of a nursing home aide, except that you work in the homes of the clients to which you have been assigned and therefore may be required to perform additional tasks such as cooking or cleaning. Due to the fact that your employer will in most cases be under government authority, you will be required to complete the same CNA training as a nursing care aide.
Should you want to become a senior caregiver without submitting to CNA training, you might consider becoming a personal aide. Though this job is quite similar to that of a home health aide, the agency for which you work will not necessarily be government-regulated; in some cases you might even be employed directly by your client or your client's family. In order to best serve the health and dignity of your clients, however, you might consider enrolling in classes on elderly care, which may be offered through your local community college or hospital.
Whether you work at a nursing care facility or in clients' homes, you will in many cases need to demonstrate that your character is suitable to the close patient contact required by this type of job. You will likely be required to submit to a background check so prospective employers can learn about any past criminal activity. Depending on job specifics, you may also need to possess a good driving record.
AS FEATURED ON:
AS FEATURED ON:






By: JPC-PROD

Senior caregivers may assist residents with standing and walking.

By: Andrew Gentry

A senior caregiver must be able to cope with seeking seniors declining and even dying.

By: Feng Yu

Senior caregivers may help clients with their medications.

By: vetkit

Senior caregivers may help with household chores, such as vacuuming.

By: Sandor Kacso

Caregivers should enjoy working with the elderly.

By: mykeyruna

Caregivers need a high level of empathy when dealing with seniors.

By: Rido

Some caregivers act as companions, engaging in games and puzzles with clients.