How Do I Become a Robotics Technician?
The education required to become a robotics technician may vary depending on the hiring firm but you should at least work on an associate's degree or a certification program in the field. Duties of a robotics technician may include assisting in the production and maintenance of robots used in various manufacturing industries. The technical nature of this job will require that you have formal training or an education that prepares you to perform certaindaily tasks. Some of the degree programs you may want to consider include mechanical or electronic engineering with an emphasis on robotics.
These programs are offered at various degree levels including associate's, bachelor's, and master's degrees and the program that you choose should depend upon your career goals. Aside from introductory engineering courses, you should enroll in coursework that may include robot dynamics, foundations of robotics, and various robotic engineering courses. The laboratory work in these courses can help prepare you to become a robotics technician, because this field is primarily based upon hands-on activities. Although a degree will significantly increase your chances to become a robotics technician, you may want to consider enrolling in training program.
Some advanced training programs may take up to seven months to complete and usually combine academics with hands-on training. These programs are generally divided into various sections; the first portion is usually devoted to teaching you the importance of automated manufacturing processes. Some of the other topics that may be covered include robot drive systems, artificial intelligence, object detection, and robot programming. The versatility of your training may be important to future employer's due to the wide range of duties you will need to perform once you become a robotics technician. Most of these programs provide you with robotics technician certification upon completion.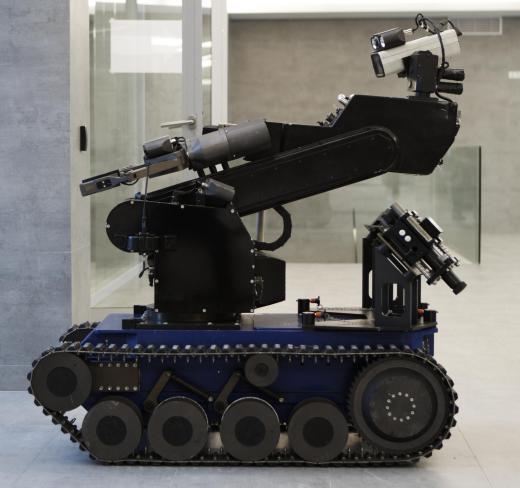 In addition to specialized training and an education, you may want to also consider taking several computer science courses. You will need to be knowledgeable in several areas of computer programming to become a robotics technician and college computer courses can guide you through various databases. Several places that you may want to seek employment include robot distribution centers, manufacturing companies, and robot production facilities. Aside from searching the Internet or newspaper classifieds, you should also consider subscribing to a robotics trade magazine for employment opportunities. This is a relatively high paying job with extensive room for advancement and there are workshops or continuing education programs that may help you advance in your field.
AS FEATURED ON:
AS FEATURED ON:






By: computer engineer

Robots working on an automobile assembly line.

By: chalabala

A robotics technician may specialize in maintaining robots that are used to defuse bombs or carry weapons.