How do I Become a Retail Salesperson?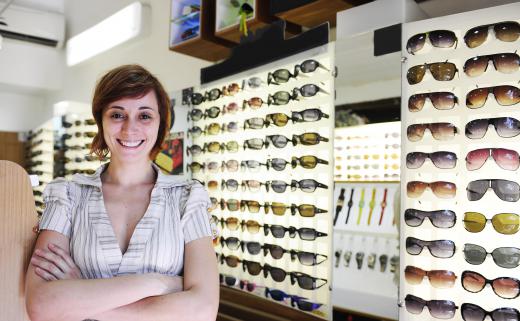 Many people have, at one time or another, worked as a retail salesperson. This is because a number of retail jobs don't require significant experience beforehand. Due to this, a number of people begin their working careers in the retail field, though there are certainly jobs that require greater experience and many people who remain in this field as a career choice. There are some hints and tips for those who would like to become a retail salesperson for the first time, and these may increase likelihood of getting work.
First, while it might seem obvious to look at job boards for work, sometimes the best way to become a retail salesperson is to visit the storefronts that are interested and ask whether the company is presently hiring. Since visiting a store means making a first impression on potential employers, these visits should be formal and people should be dressed in at least casual business clothing. Some clothing stores might look for business dress, particularly if they sell things like men or women's suiting or upscale clothing.
People should come prepared with a resume, though it is very likely they will also be asked to fill out a job application. Having the resume suggests professionalism that can be very well received. If little work experience is on the resume, it's a good idea to highlight any types of experience that show good people skills or service to others. Even if it's only volunteer work, these types of experiences demonstrate that a person is good at working with others.
During first contact to become a retail salesperson, good and friendly manners are very important. Most retail outlets place a high premium on people being able to easily talk with customers. Knowing a little something about a store's products might be of use too. Retail stores that sell any type of electronics could look for this in their employees, while those that sell clothing or other items may not.
If people get an interview, they should plan to dress appropriately and be enthusiastic. People might want to prepare for certain questions about their level of flexibility in work hours and their dependability. Should an interview go well, the person might become a retail salesperson fairly soon afterward.
In tight job markets, a number of people who formerly held jobs with greater responsibility have sought work in retail. This may mean that getting work is a little harder than it once was. Inexperienced workers might find getting jobs in retail more challenging.
This can't be remedied fully, but getting in the door for an interview might help people become a retail salesperson, as can enthusiasm and professionalism. It's not a bad idea to read a book on how to have a successful interview or write a resume. Having a professional, warm and friendly persona for job interviews may count as much as previous work experience in other fields.


By: mangostock

A retail salesperson must understand the differences in the product lines they sell.

By: maigi

Retail jobs don't require a significant amount of experience beforehand.

By: Kadmy

Retail salespeople have to know how to work a cash resgiter.

By: Robert Kneschke

A cashier clerk who excels at her job may be promoted to retail salesperson or another more lucrative position.