How Do I Become a Mental Health Therapist?
The way to become a mental health therapist involves several different routes. People can earn a degree in counseling, social work or psychology to meet this goal. Although some positions might require only bachelor's degrees, some might require doctoral degrees. These are all ways in which people can become mental health professionals, although they all require slightly different training and education. Degree requirements for becoming a mental health therapist will vary by country and location.
A mental health professional who has a counseling degree might work in a variety of locations, such as schools, churches or public mental health offices. Counseling typically covers a wide range of general topics, such as careers, conflict resolution, marriage and family, self-help and problem-solving. A counselor can help a variety of clients with a host of problems. He or she generally will not work on more intensive mental health issues and disorders like a clinical social worker or psychologist does, however.
One can earn a degree in social work to become a mental health therapist. Social workers, especially licensed clinical social workers, work with people and families, often on a frequent and intense basis, to evaluate problems and diagnose mental health issues. These social workers use standardized diagnostic criteria to diagnose and treat various mental disorders, from anxiety to multiple personalities. People might also see social workers so that they can develop better relationships and acquire better coping skills. Social workers can be employed by schools and hospitals as well as public and private mental health facilities.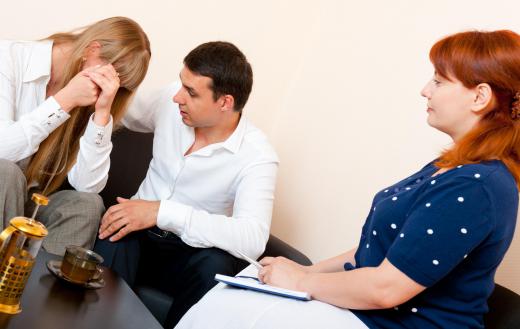 Another route by which one can become a mental health therapist is to earn a degree, usually a doctorate, in clinical psychology. Although clinical psychologists might also diagnose and treat many mental and life issues, they often do so by conducting assessments, such as intelligence quotient (IQ) tests and personality tests, and then using the results to help the client. They might be employed by schools, hospitals or other organizations.
Typically, in the quest to become a professional in the mental health field, a person must earn a college degree in his or her field. Earning a degree in a mental health field normally requires that a student successfully complete an internship in his field so that he or she gets practical experience interacting with clients before graduation. Also, therapists usually must earn a license or credential to practice. The license or credential shows that therapists have the education, professional knowledge and experience necessary to practice effectively. Usually, this license must be renewed every few years by remaining in practice and taking continuing education courses or workshops.
After a person decides to become a mental health therapist, he or she can then choose to specialize in a certain field, such as child and adolescent therapy, play therapy or marriage counseling. This specialization might require more coursework or even an apprenticeship or additional internship to become proficient. Some mental health therapists treat a broader range of problems, and others choose to specialize in one or two particular areas.
To be successful, therapists need characteristics such as empathy, professionalism, creativity, flexibility and the ability to work with and relate to many types of different clients. All of these personal qualities will help ensure that therapists can effectively interact with clients and help them maximize their potential. Many therapists find that it is best to tailor each client's treatment based on the client's individual needs and personality instead of providing the same treatment methods for everyone.
AS FEATURED ON:
AS FEATURED ON:






By: Lucian Milasan

A licensed clinical social worker is a type of mental health therapist who might help people with multiple personalities.

By: Anton Gvozdikov

Choosing a focus, such as marriage counseling, can help someone on her toward becoming a mental health therapist.

By: michaeljung

A mental health professional who possesses a counseling degree might work in a variety of locations.

By: alexsokolov

Empathy, professionalism and creativity are all necessary characteristics of a mental health therapist.

By: fasphotographic

A mental health therapist may choose to specialize in helping children.

By: Warren Goldswain

Therapists often suggest activities that can improve a person's mental well being.