How Do I Become a Manufacturing Consultant?
Manufacturing consultants help other companies improve the quality of products and the efficiency of the processes used to manufacture them. In order to become a manufacturing consultant, a combination of specialized education and experience is needed. An aspiring consultant may choose to start an independent firm, form a partnership with fellow consultants or join the team of a large commercial firm.
In order to become a manufacturing consultant, it is recommended that you obtain specialized education in engineering or a related subject matter. A college degree at the master's level is preferred. Some consultants obtain degrees in systems engineering or industrial engineering. A management related degree such as business administration with a specialty in project management or production management might also suffice.
Experience in the industry is vital if you wish to become a manufacturing consultant. Quite a few consultants have years of experience in plant management, production quality, programming supervision and engineering management. They may have specialized industry experience in particular sectors, such as automotive manufacturing. Experience in manufacturing process design, improvement and development is recommended.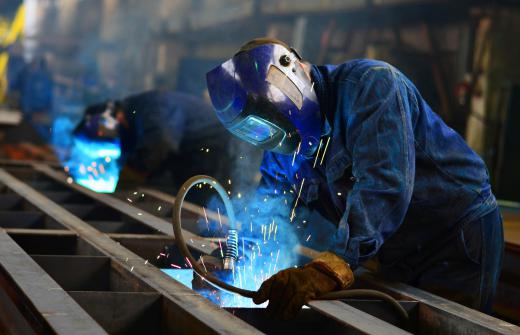 Since consultants examine processes and make recommendations for improvements, it is helpful if you have prior experience with executing new ideas for manufacturing processes. The implementations of these ideas are more impressive if they contained measurable benchmarks that resulted in successful improvements. It is also important that these ideas and executed processes demonstrate full understanding of fundamental manufacturing concepts, such as just in time inventory.
For those who wish to become a manufacturing consultant without years of experience, obtaining an entry-level position with a large commercial firm is a good step. Some of the larger corporations are willing to train and develop new graduates. Most likely you will be paired with an experienced consultant and will assist with the execution of his recommendations.
Starting your own independent consulting firm or forming a partnership are other ways to become a manufacturing consultant. These options work best for individuals who have quite a few years of manufacturing expertise behind them. They can be good choices for those who are ready to work for themselves and take on the responsibilities associated with self-marketing.
A partnership provides certain advantages over a sole proprietorship if you feel that your skills are lacking in a certain area. Joining forces with other consultants might make up for a lack of knowledge about the quality management process or a limited group of professional contacts. In some ways, a partnership might mean less financial risk as each partner helps promote the other's work and shares in the administrative responsibilities.
Individual consulting firms carry the most risk and the highest amount of potential reward. You may have to initially discount your services in order to establish your company's name. Networking through local professional organizations is a good way to scout for potential clients and secure work.
AS FEATURED ON:
AS FEATURED ON:






By: gmg9130

Specialzed professional experience and educational credentials are required to be a manufacturing consultant.

By: maxhalanski

A lean manufacturing consultant may advise that production workers learn new skills and approaches to their job.