How do I Become a Landscape Designer?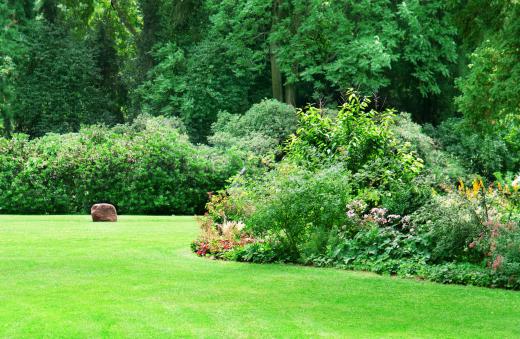 A landscape designer creates, plans and oversees the installation of aesthetically pleasing landscapes that are appropriate to a particular locale. To become a landscape designer, it is necessary to have a creative eye, a good design sense and, of course, an interest in gardening and horticulture. A landscaper must have a thorough knowledge of different varieties of plants, trees and shrubs, plant cultivation and plant care, soil types and climate conditions, and irrigation techniques and maintenance requirements. It will also help to know about various stone types, garden ornaments, paving blocks and other construction-related materials.
Training to become a landscape designer can be obtained through a three year diploma or four-year degree program in landscape design. People with educational backgrounds in horticulture or agriculture can also take up this profession. Additional certification or licensing from a professional landscape architecture association will be necessary if you want to put up a shingle as a landscape architect.
It is a good idea to research landscape design colleges and pick one that offers excellent teaching and practical experience. Accredited online colleges can be a convenient choice for someone who wants to become a landscape designer, but does not have the time or finances to attend a full-time program. The online learning is augmented with off-line landscaping study projects, although you won't get the type of learning interactions possible in an actual college environment.
Landscape design courses generally cover aesthetics, design theory, color theory, computer aided design, drawing, botany, plant cultivation, and landscape design projects. It will help to brush up on your business and communication skills as well. Anyone who wants to become a landscape designer must be able to estimate and manage finances, market his or her services, and interact with clients, architects, engineers, landscape installation contractors, workers, sales representatives and a host of other people.
Along with completing college projects, students should consider getting some real world work experience by working with an established landscape designer, landscape design firm, or by taking on some landscaping projects on their own. This will not only give you an idea of how to manage within set budgets and work completion time frames, but will also help you build contacts within the industry. You will also be able to build up your resume and portfolio.
Having a landscape design portfolio, particularly an online one, is important to get started in this career. Your portfolio should include design sketches and plans as well as photographs of completed projects. Testimonials from clients and from professionals in the landscape design business will be a definite plus.
You can work as a freelance consultant, manage your own landscape contracting business, or work full time with a landscape design or architecture firm. It is important to keep on developing your artistic landscaping and garden design skills, and continue learning new things about the landscaping business. Attending trade shows, keeping tabs on current design trends, perusing landscape magazines and books, and seeing varied landscapes from different cultures will help you stay on top of the game.


By: alinamd

A prospective landscape designer needs to learn to understand the aesthetics of landscaping.

By: Tina_Jeans

Landscape designers must use man-made and natural elements together.

By: JulietPhotography

Landscape designers have to choose the right kind of flowers to complement the space.