How Do I Become a Laboratory Manager?
Laboratory technicians and technologists may accrue enough education and experience to eventually become a laboratory manager. These professionals often are certified laboratory technologists and have a bachelor's or master's degree with enough experience to merit a promotion. To become a laboratory manager means to devote your career toward not just performing laboratory testing but also supervising those who do.
The first consideration when endeavoring to become a laboratory manager is how to achieve the advanced education requirements. A bachelor's degree, typically in medical technology, is needed to be hired into an entry position as a laboratory technologist, and an associate's degree is needed to work as a lab technician. For this reason, an advanced degree in management, medical diagnostics, biochemistry or microbiology also may be a prerequisite for entrance into the management ranks. The directors of larger labs often obtain doctorate degrees in biochemistry or a related field, with a focus on management.
Once you are working as a laboratory technologist, certification is often required from an accrediting body. The various credentials required and the method of obtaining them varies depending on where you wish to work. For example, within the US, the nonprofit American Medical Technologists, the National Credentialing Agency for Laboratory Personnel, and the National Accrediting Agency for Clinical Laboratory Sciences each offer certification for technologists as well as the less-educated technicians and lab assistants. In the UK, the British Association of Sport and Exercise Sciences (BASES) offers several accreditations in the health field that will help lead to a job in laboratory management. Local colleges offering health studies as well as hospitals should be able to inform you about accrediting agencies in your area.
Often, a higher-ranking technologist aiming to become a laboratory manager will have obtained a few certifications from different bodies. Official credentials also are available for those seeking certification as phlebotomists, health instructors and laboratory consultants — any of which could help set a candidate apart for management. Some places also require laboratory personnel to obtain licenses.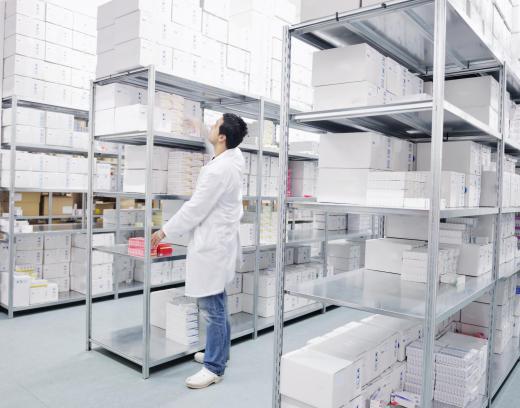 Those allowed to become leaders in the laboratory technology field typically have extensive experience and specialized skills. This ensures that the leader will have a firm grasp of all tests performed by the lab on a daily basis as well as the protocol for how results are displayed and patients are informed. Lab managers also are responsible for staff safety practices, equipment upkeep and scheduling. Though many laboratory technologists are devoted to certain specialties, those seeking to become a laboratory manager will need to learn facets of many laboratory functions, from bacteriology, toxicology and electron microscopy to genetic research, hematology and biochemistry.


A Bunsen burner, a type of laboratory equipment.

By: Yuri Bathan

Laboratory managers must supervise chemical storage procedures.

By: luchschen_shutter

Laboratory managers are often tasked with setting safety procedures and protocols.

By: perfectmatch

An advanced degree in biochemisty or microbiology may be necessary to become a laboratory manager.

By: .shock

Laboratory managers typically manage budgets and approve supply orders.