How do I Become a Freelance Web Designer?
Freelance Web designers usually have creative control over their work, a flexible schedule and more financial freedom than those who are employed by an agency or firm. Working as a freelancer can require a lot of discipline and hard work, but with the right resources and training, a career in freelance Web design can quickly manifest. Specified training in graphic design, proper business planning and a strong clientele base are typically necessary to become a freelance Web designer.
Many Web designers hold a four-year degree in fine arts or graphic design. Certificate programs and associate's degrees are also available as training for those who hold bachelor's degrees in other fields of study. Training typically includes courses in design principles, computerized design, commercial graphics production and Web site design.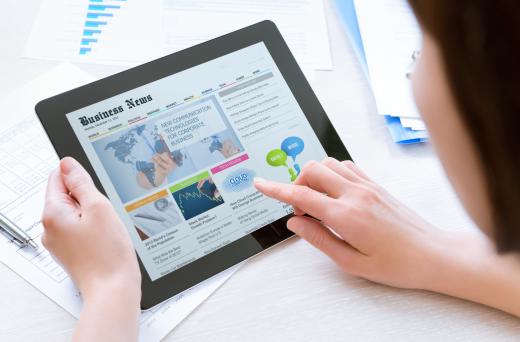 It is rare for a person to become a freelance Web designer directly after completing school. Most Web designers spend several years working for an employer and building a portfolio before venturing into self-employment. Taking a few years to build clientele, become familiar with design software and save money are generally advisable steps for one looking to become a freelance Web designer. Many freelance Web designers start their careers by doing side projects while working for a company, eventually building the skills and clientele necessary to become a freelance Web designer.
It is never too early to begin business planning, as simple steps taken early on can ensure success in the future. One may begin by building a company Web site that is user friendly, professional and free of code or copy errors. It is generally recommended that the site clearly display all services offered, as well as a resume and portfolio. A Web site can serve as a great marketing tool, as well as provide basic information to clients, such as pricing and service lists.
In order to build a portfolio, many Web designers offer free services to volunteer groups or charitable organizations. Providing free services allows the designer an opportunity to further develop Web design skills and build a resume for paying clients. In the beginning, it is unlikely that even the first couple of freelance jobs will yield much profit. It takes several years of experience and quality reputation to charge top dollar for Web design work.
It is advisable to keep a steady job as long as possible since freelance work can be unsteady and unpredictable at first. In order to start building a clientele base, it is generally a good idea to look for ways to market and expose the company name. Printing business cards that include the company Web address to keep handy for prospective clients is often a good idea.
It may be beneficial to advertise on sites that display contact information for freelance designers. Placing an advertisement for Web design services on news pages or other high-trafficked sites may also be helpful in securing clientele. While some advertising may be helpful, most freelance Web designers secure the majority of their clients through referrals made by existing clients.
AS FEATURED ON:
AS FEATURED ON:






By: bloomua

Most freelance web designers are self-employed.

By: corepics

Freelance web designers are free to work whatever hours they choose, making this a great choice for people in search of a way to balance work and family obligations.

By: AntonioDiaz

Many freelancers use job boards and employment websites to find web design jobs online.