How Do I Become a Federal Public Defender?
To become a federal public defender it is necessary to be a member of the bar in good standing and to have at least five years of experience in criminal practice. With these qualifications, attorneys can apply for job openings as federal public defenders. Information about available jobs for an attorney who wants to become a federal public defender can be obtained through various regional offices. This work provides individuals charged with federal crimes with representation if they cannot afford attorneys on their own, and may involve a variety of cases, including potential death penalty trials.
Becoming a member of the bar requires attending an undergraduate institution and applying to law school. Some institutions offer pre-law degrees, but a degree in almost any field can be suitable; attorneys may have backgrounds in history, political science, English, and other topics. This can provide an opportunity for a prospective attorney to widen the scope of her knowledge, which will serve her well later in her career. Law schools typically require excellent letters of recommendation, strong transcripts, and good scores on admissions exams.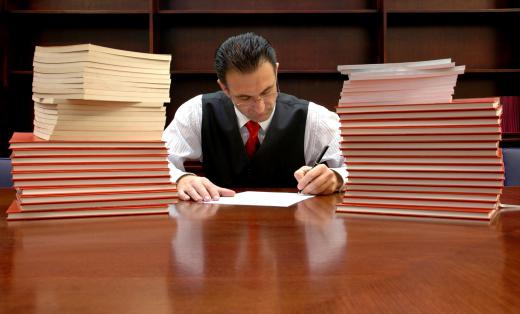 After completing law school, attorneys are eligible to take the bar exam, an important step in the path to become a federal public defender. Attorneys may want to think about where they want to practice in the long term when deciding where to go to school and take the bar, as they will have to recertify or apply for reciprocity in other regions, since bar status is not universal. A successful grade on the bar exam combined with passing a background check will result in becoming a fully qualified attorney, allowing the lawyer to start building up practice experience.
An attorney who plans to become a federal public defender should think ahead and pursue criminal law internships in law school. These will provide valuable experiences, references, and connections. After graduation, attorneys with internship references can apply for jobs where they will acquire criminal experience. A federal public defender can have a background in prosecution or defense, as both are valuable when preparing to defend cases in federal court.
With at least five years of experience in practice, the attorney can start applying to become a federal public defender. These positions usually last four years, with an opportunity for reappointment at the end of the term. Competition tends to be fierce when positions do open up, and attorneys need to be as competitive as possible, with strong references and a good employment history. The federal public defender's office will also look at the attorney's integrity and personal character, as these are important aspects of practice.
AS FEATURED ON:
AS FEATURED ON:






By: Corgarashu

Most states require lawyers to have completed a degree in professional law from an accredited university, in addition to passing the bar or licensing exam, to practice.