How Do I Become a Country Musician?
A person must be dedicated, talented, and hardworking in order to become a country musician. This distinctly American musical style is quite popular throughout the US and even beyond, and attracts many devotees and aspiring musical artists. Some of the steps needed to become a country musician include research, musical training, and performance preparation. Whether a person wants to be able to perform in local clubs or sold-out stadiums, it is also important to assess personal goals to determine how much time and effort should be spent to become a country musician.
For people who love country music, the research needed to become a country musician can be a lot of fun. Having an in-depth understanding of the genre means listening to a lot of music, going to concerts, and learning about the instrumentation and structure of country music songs. It can be very useful to research the roots of the genre, listening to famous country performers from prior generations to see where current stars gained their inspiration. Spending time researching the genre can be invaluable for a musician seeking to create their own performance and composition style.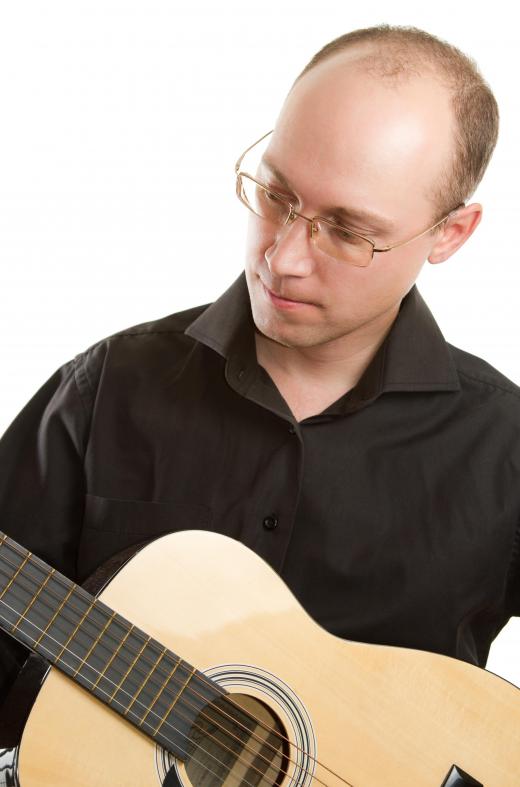 One of the most important steps needed to become a country musician is musical training. This may include taking years of singing lessons, as well as instrumental training on piano, guitar, bass, violin, or drums. While some students may have natural musical ability, it is also important to learn technical musical skills, such as sight reading, rhythmic patterns, and the rules of harmony. Since many country musicians compose their own music as well as playing famous songs, classes in composition and lyric writing may also be extremely helpful. Classes may be available privately, or through music schools and community centers.
Country musicians are often fantastic performers, as well as excellent technical musicians. Learning how to perform well in public can help a person become a professional country musician, since a good performer is likely to land more gigs. The best training for performance is often to simply start getting on stage, beginning at open microphone nights or even karaoke clubs. Performance skills are often honed over many years of practice and performance, and many musicians never fully get over stage fright and anxiety.
Self-assessment can be important to a future as a country musician. Some people may be happy learning the style and technique to perform for fun or on the local music scene. Those who want to become country musician stars will likely need to put forth a lot more effort, including possibly moving to a country music recording hub, and hiring professional managers, stylists, and publicity personnel. Even for those with high hopes for fame may benefit from starting small in order to be sure that the music industry is really the right place for them.
AS FEATURED ON:
AS FEATURED ON:






By: vitmark

A country musician has probably trained to sing and play a musical instrument, like a guitar.

By: Scott Griessel

Country musicians can serve as solo artists or as part of a group.

By: nyul

People who want to become country musician stars will likely need to hire a professional manager.