How Do I Become a Computer Specialist?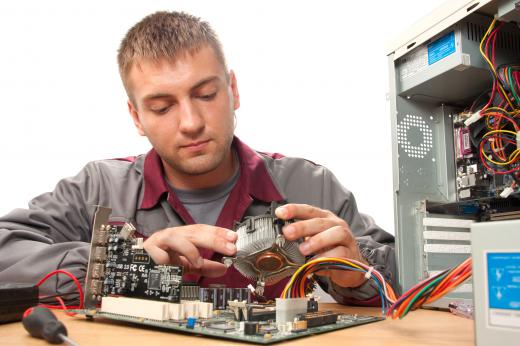 If you want to become a computer specialist, then you should typically begin with a firm background in general computer knowledge and skills. You can then choose a particular area of computer work in which you wish to specialize, or find a field in which you can provide assistance with computer work. The exact nature of this specialization can vary quite a bit, and you should consider what you are interested in doing and where there is frequent need for those with specialized computer knowledge. Once you have the training you require to become a computer specialist, then you should consider both employment and consulting opportunities.
To become a computer specialist, you typically need to have skills and knowledge necessary with regard to computers and a sense of how you want to specialize. A computer specialist is typically someone with a background in general computer science, who then focuses on a more specific and specialized aspect of computers. This means you can begin your work to become a computer specialist by gaining the general background knowledge you may need. You should consider an associate's degree or a bachelor's degree in a field such as information technology (IT) or computer science.
After receiving your degree, you can then become a computer specialist by choosing the area of computer science or IT in which you wish to specialize. While you can choose a somewhat broad specialization, such as networking or hardware design, it may be more advantageous to choose an even more specific specialty. You might consider a particular type of network infrastructure in which you enjoy working or specific types of application firmware or hardware design you find interesting. While a specific focus may reduce the number of potential jobs available to you, it can also increase the amount of salary you can demand once you become a computer specialist.
Training to become a computer specialist can be quite expensive, especially for professional certification, so you should consider choosing a specialization for which your employer might pay or reimburse you. This not only allows you to gain training in a less expensive way, but also makes you a more valuable asset to your employer. Once you receive the training you need to become a computer specialist, you can remain with your company or move on depending on your preferences and how well your company has treated you. If you are looking for new work opportunities, then you might consider consulting for one or more companies. This can provide you with greater freedom and may be more lucrative than contractual employment for a particular company.


By: Nomad_Soul

A computer specialist may be an expert on physical hardware.

By: sergey makarenko

A network hub.

By: diego cervo

Computer specialists are hired to carry out complex technology-related tasks.