How do I Become a Back Pain Specialist?
If you want to become a back care specialist, you should do research on medical procedures involving back pain and health care in general. If you are still in school, try to obtain a part-time job as a volunteer or aid at a local health care facility or pain management center. This will help you gain experience and general knowledge. Most importantly, plan on obtaining higher education and broad expertise in your chosen field. Understand that this will take many years of education and specialized training.
Perhaps you are interested in becoming a chiropractor who specializes in back pain. If so, brush up on the specifics of this branch of medicine. A chiropractor is a medical specialist who deals with injuries relating to the spine and back. This type of specialist is similar to a physician who specializes in orthopedics. To become a back pain specialist, you might also be interested in becoming a certified physical therapist.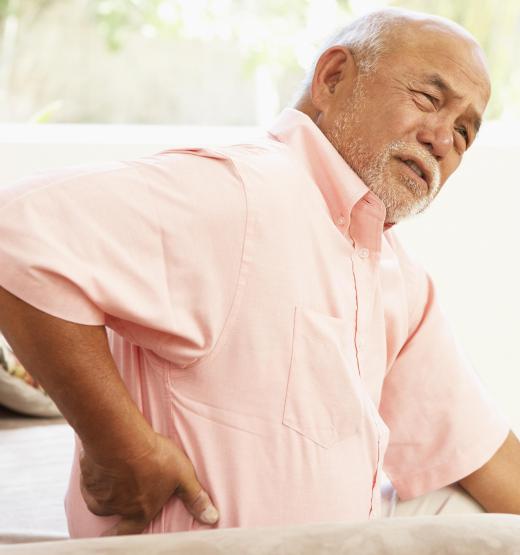 While you are in school, there are various courses you might want to take to help you gain a better understanding of the medical profession. Inquire at school or at your local library what steps you can take to help you become a back pain specialist. Local hospitals may be able to provide you with more information as well.
To become a back pain specialist, you must be prepared to devote an extended period of time on your education and training. Most likely, this will take a good deal of effort as well as money. If you plan on practicing in the United States (US), you might want to consider becoming certified by the American Board of Medical Specialties. Without certification, you will not obtain the license that grants you the officially become a back pain specialist.
In order to become a qualified back pain specialist, you will need to complete your medical education and obtain several degrees. The first step after high school is to continue your education through four years of college. You'll then need to graduate from medical school. This should take approximately four additional years. Give it some consideration as to what schools you might consider, and how you plan to pay for your education.
Most likely you will need to go through a resident program, which will take you through rigorous training to become a pain specialist. This could take an additional three to five years or more. You will need to pass a series of examinations by the board to become a back pain specialist.
AS FEATURED ON:
AS FEATURED ON:






By: Monkey Business

A prospective back pain specialist should research back pain as well as health in general.

By: Lisa F. Young

Chiropractors may focus on managing back pain.