How Do I Avoid Food Poisoning from Beef?
Beef, especially ground beef, can be a common source of the bacteria that leads to food poisoning such as salmonella and E. coli. Though it may not be possible to avoid every possible instance of food poisoning from beef, there are certainly some steps you can take to lessen the risk. Some of the most important things to remember are to cook the beef thoroughly, to keep it cold when it should be cold, and vice versa, and to avoid cross-contamination when preparing other foods.
Avoiding food poisoning from beef begins when you first purchase it. Select a package where the sell-by date is at least a few days in advance, and one that is vacuum-sealed and not leaking. Keep it cold until it arrives home. It can then be stored in the refrigerator for a day or two until it is cooked, or frozen for up to a few months. If it is stored in the refrigerator, it should be kept at 40 degrees Fahrenheit (4 degrees Celsius) or less to prevent bacteria growth. When beef is defrosting, it should be defrosted in the refrigerator or microwaved, never left out on the counter, and absolutely never placed in warm water.
When preparing the beef to cook, never use the same cutting board or knife for any other foods, and make sure any liquids do not leak elsewhere on the counter. This is referred to as cross-contamination, and being careful to prevent it is an easy way to avoid food poisoning from beef. This is true for any types of meat, fish, or poultry -- never allow the raw juices to touch other foods.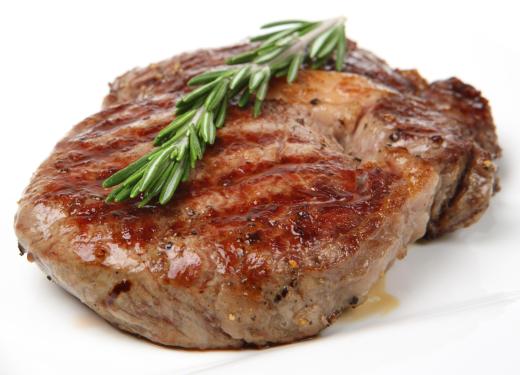 Another easy way to avoid food poisoning from beef is to cook it thoroughly. Never cook beef partially, and then put it back in the fridge to finish cooking later; cook it thoroughly the first time, and then reheat it if necessary. Experts recommend that beef reach an internal temperature of 160 to 165 degrees F (71 to 74 degrees C) in order to be cooked thoroughly and to kill all the bacteria.
The process of avoiding food poisoning from beef doesn't stop there, though. Once the beef is cooked, it should be kept hot and shouldn't be left out at room temperature for any more than two hours. Any leftovers should immediately be put away in the refrigerator.
AS FEATURED ON:
AS FEATURED ON:






By: kentoh

Thinly sliced beef.

By: Joe Gough

A grilled steak.

By: Piotr Pawinski

It's usually best to defrost meat in a refrigerator.

By: Lyuba Bunakova

A Salmonella bacterium, a common cause of food poisoning.

By: Giovanni Burlini

Beef.

By: kornienko

Cutting boards must be sanitized after coming in contact with raw beef.

By: sumnersgraphicsinc

Ground beef is often a source of bacteria, which can lead to food poisoning.

By: Demian

Beef should be cooked thoroughly in order to kill the bacteria it may harbor.