How Can I save Money While Eating out?
It is possible to save money while eating out without sacrificing an enjoyable meal. You don't even have to take a lot of time or effort to save money on restaurant meals if you just establish a few guidelines. Small quick things such as clipping coupons in newspapers, reading reviews of good budget-friendly establishments to try, skipping costly drinks and desserts are all easy to do and can help you save money while eating out. You can also look for opportunities to save money with helpful online tools like Wikibuy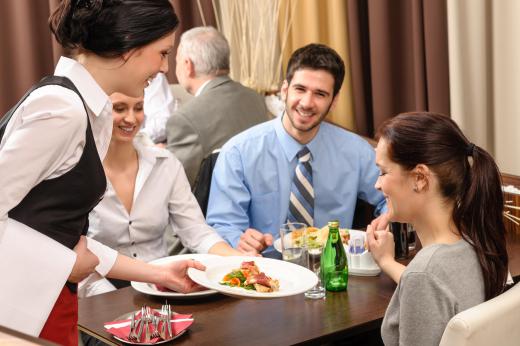 A great money-saving idea to keep in mind when you want to try an upscale restaurant but don't have a coupon is to go there for lunch instead of dinner. The lunch menu features less expensive items than the dinner menu in most fancy restaurants and you can always check their menu ahead of time to see what they offer. By having lunch in an expensive restaurant you not only save money while eating out, but you still get the upscale decor and will be able to sample the food and service there before deciding to spend more money by going there for dinner on another occasion. Entertainment Books®, or coupon books that feature discounts for restaurants and other entertainment within a certain geographical area, often include two-for-one coupons for fancier restaurants and well as for fast food places.
Save money while eating out at fast food restaurants by using coupons. If you make a point to try only to eat in these places when you have coupons, you'll probably eat fast food less often which can be healthier. Family restaurants often have free children's meals and that can also save money. You're not likely to have too many complaints if everyone drinks water with their meals and then returns home to dessert and soft drinks or other treats you have ready. By skipping drinks and dessert in restaurants and having them at home instead, you can really save money while eating out!
Some restaurants have extremely large portions and you can save money wile eating out at these places by sharing portions. If the salads are inexpensive you could add that to round out each meal, but if salads are expensive perhaps an appetizer can also be shared along with the meal. It's a good idea to get to know what restaurants in your area have specials on which nights. Many restaurants have discount meals during the week to get more customers in on weeknights rather than mainly on weekends.


By: karandaev

Having a soft drink with a meal can add to the bill.

By: CandyBox Images

Skipping dessert can help save money while eating out.

By: Taffi

Drinking water may help reduce a restaurant bill.

By: by-studio

A newspaper may have coupons for local restaurants.

By: fotopak

Many fast food and sit-down restaurants offer coupons.

By: Africa Studio

Using cash instead of credit or debit cards can help save money.

By: sattriani

Restaurants with a buffet usually offer customers the chance to eat as much as they want for a fixed price.

By: jillchen

Skipping alcohol while eating out is one way to save money.