How can I Prepare to Adopt a Dog?
Adopting a pet can be a wonderful way to gain a new member of the family while also providing a home to an animal that needs it. If you are about to adopt a dog, it can be disruptive in the beginning while pets and humans adjust to each other, and it is important to introduce a new dog with care. When someone is ready to adopt a dog, a few preparations can be made so that the process will be easier and more fun for all involved.
The first decision to make when you adopt a dog is where the dog will come from. Most areas have more than one kind of animal shelter, and each has specific drawbacks and advantages. If you adopt a dog through a dog rescue organization, you may end up with a pet who has special needs or behavioral problems as a result of abuse. If you go to the dog pound, you may be able to save a dog from euthanization. At the local SPCA or Humane Society, a wide assortment of dogs are usually available for adoption including victims of abuse, abandoned pets, and dogs who could no longer be kept for a variety of reasons. When you adopt a dog, it is important to find out as much as possible about its past life so that you better are prepared to take care of it.
When you are ready to adopt a dog, bring the whole family to the animal shelter. This will allow everyone who will be living with the dog a chance to interact with it. In some cases, dogs have very violent responses to particular people, so it is important to establish that the dog is friendly with all members of the household before bringing it home. Take an assortment of dogs out to play with and walk, if the shelter will allow you to do so. Most shelters encourage people to spend time with potential pets, and often set a safe space aside to do that in.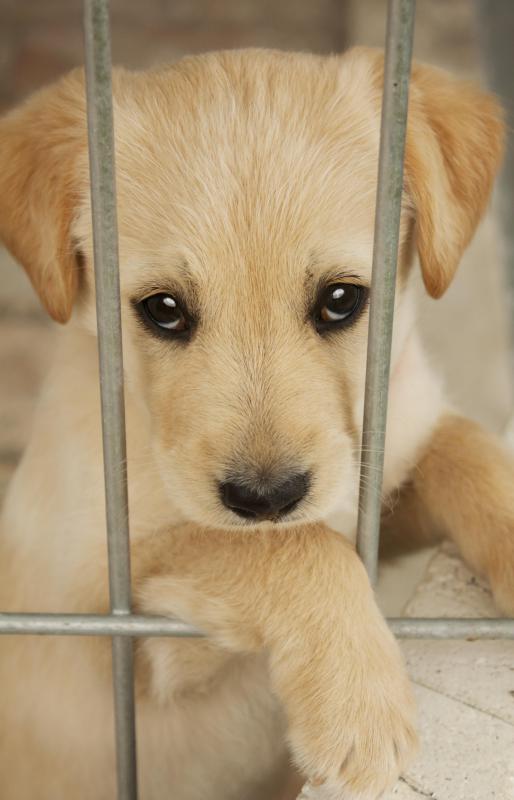 If you are adopting a puppy, try to get information about how large it will grow to be. Big dogs can be difficult to handle or impractical in small spaces, while small dogs may develop strange behavioral tics such as barking and biting. When you adopt a dog, you usually do not have any information about its parents. This means, unfortunately, that you have no way of knowing how the dog will behave when it grows up. Try to seek out a healthy puppy that responds well to being handled, and put it into training as soon as possible to lay the groundwork for good behavior.
When you have selected a dog for adoption, talk to the shelter staff about the animal. Most shelters spay and neuter their dogs before allowing them to be adopted, and also provide vaccinations. Get a vaccination card to help you keep track of the vaccines the dog has gotten, and when the dog will be due for more. Find out if the dog has any special needs from the shelter staff, and fill out the necessary adoption paperwork before loading up in the car to go home.
It is an excellent idea to bring a blanket or mat for the car when you adopt a dog, in case the dog has an accident on the way home. The stress and excitement of the adoption process can sometimes cause incontinence. You should also bring a sturdy leash, and designate a family member to hold the leash while you travel so that the dog will feel secure. After you get home, you can start the process of introducing your new family member, and prepare for a lifetime of adventures together.
By: Alexey Stiop

Pets require basic supplies, such as a leash, collar and tags.

By: lightpoet

It's a good idea to walk with several dogs from a shelter to see which one a person is most comfortable with.

By: fotowebbox

Your dog will need certain vaccines to avoid common illnesses.

By: MoustacheGirl

If people go the pound, they may be able to save a dog from euthanization.