How Can I Get Self-Harm Help?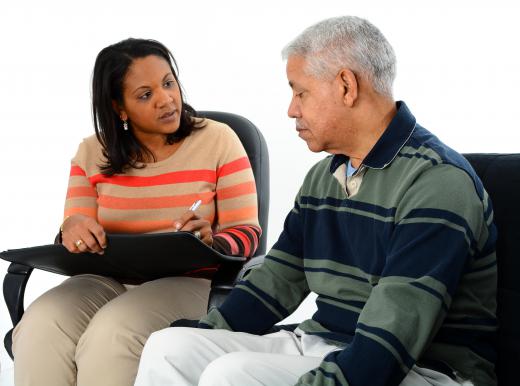 Self-harm help can include talking with a trusted friend or relative, joining a support group or seeking the professional help of a counselor or psychiatrist. You also might find it helpful to talk to a leader from the religious organization of your choice. Calling a self-harm crisis hotline is another option. All of these options require admitting there is a problem and reaching out to someone for help.
A crisis hotline can offer immediate self-harm help. People who answer crisis hotline phones are trained to intervene and prevent others from hurting themselves. The most common forms of self harm include suicide attempts and self mutilation.
Repeatedly cutting the skin with sharp objects is a form of self mutilation. Although self mutilation is serious, it is often not intended to be fatal. Self-harm help for cutting often involves ongoing counseling. Medical attention also might be necessary if the cuts are infected or there is excessive bleeding.
Talking with a trusted friend or family member is a form of self-harm help that does not necessarily involve a professional counselor. Alternately, an online or community support group can allow you to discuss your situation anonymously. The keys to success in such a situation are to be sure to continually evaluate whether these methods are truly helping you and to be willing to change them if not.
It might be necessary to talk to more than one person. Someone close to you might be overcome by his or her own feelings of sadness, anger or fear when you tell them what is happening. If the person you chose to talk to cannot cope with the issue, then you should ask someone else. You might need to try several methods before getting the help you need.
In some cases, professional self-harm help from a counselor or psychiatrist is needed. These professionals are trained to help you understand and overcome self-harm habits or feelings and teach you alternative coping behaviors. Self harm is typically caused by intense feelings of pain or isolation, and being willing to open up to the person in whom you confide is crucial. Explaining the feelings or situations that increase your desire to commit self harm can allow both your and the other person to understand the root causes of your behavior or feelings.
Many types of self-harm help are voluntary. That means you simply ask for it. People can sometimes compel you to get treatment if they believe you are placing your life in danger. A psychiatrist might be called in to evaluate you at a hospital, for example. You also might be required to receive a medical evaluation.


By: Rob

A therapist is one source of self-harm support.

By: Aleksndr Login

People who feel like engaging in self-harm may call a hotline to speak with a counselor.

By: Magdalena Kucova

Self-harm help may come from a local pastor.